Got Gauge?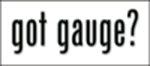 Alright. I'm a fairly new knitter, and never have really knitted anything where gauge was important. (for those non-knitterly folks out there, gauge is how tightly or loosely you knit- you should test it compared to the pattern you are doing and adjust accordingly. Sounds tedious, right? I thought so too.) Well, as you all know, I have been knitting a wrap dress for Joie. Well, today it wandered into the Realm of Finished Objects! I cast off, lovingly wove all my loose ends in, read a bunch of articles, tips, and instructions on blocking, broke out the biggest towel I could find, and started pinning. I grabbed my pattern and tape measure to make sure I blocked it out to the correct size. And then I realized the nightmare- my dress was about 2 inches bigger all around than the biggest size of the pattern ( I was working the second largest size)!! So, I pinned it out neatly and without stretching it any, and have been steam blocking it. It really isn't
that
big of a deal- it'll still fit her and she can
really
grow into it. Yes, folks, I have learned my lesson. For anything more complicated that a dishcloth or scarf, I will be knitting up a swatch and checking my gauge to avoid further mishaps like this one. On a happy note, though, I just have to finish blocking this bad boy, get all the seams stitched up, and you can see pictures! WOOHOO!
* Some of you may have noticed a few missing posts. If you are wondering where they went, I took them down because there seemed to be a complete lack of interest. If you think I am wrong, or you yourself were interested, then please email me at
tbtyger@yahoo.com
. If you have no clue what I am talking about, don't you worry your pretty little head.*